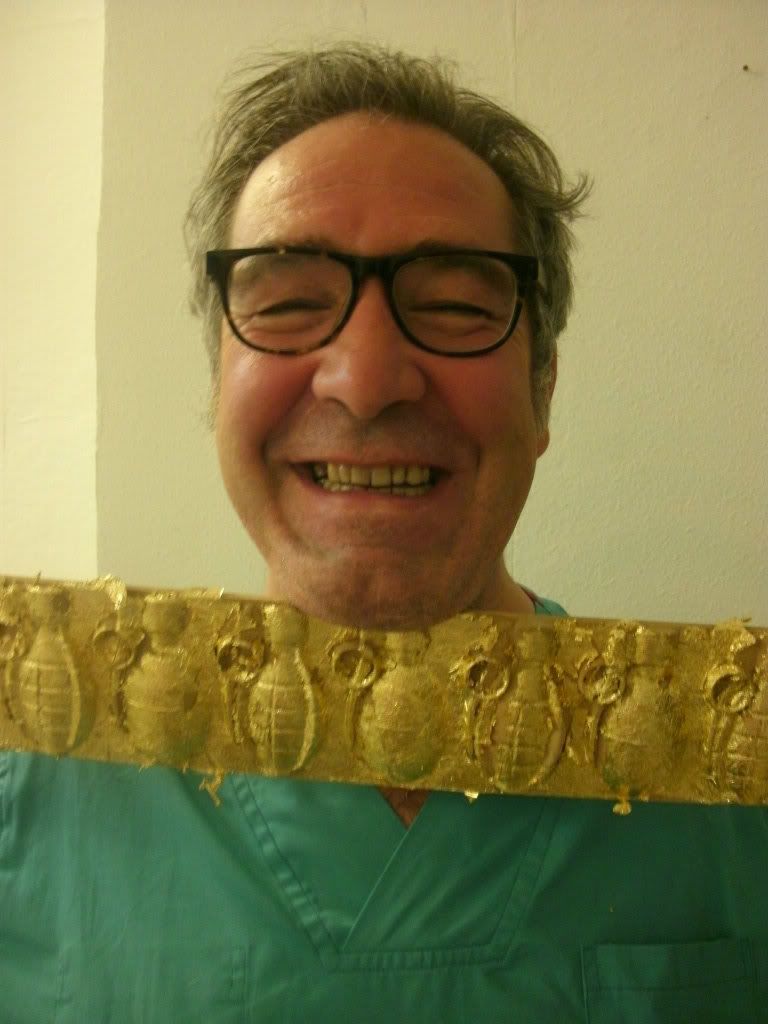 For ages I've considered
Mike Hentz
's term
"flatware"
a clever wordplay on software, hardware and silverware, re-applied to desribe his paintover work. Until one day, I decided to look the word up in the dictionary, to a certain digree of dismay finding it out to be the American expression for table silver. On a second (and further) thought, however, it started to make perfect sense. Here's why.
In
Mike
's personal (and voluminous) work vocabulary (which during his days in the now-legendary group
minus delta t
had once been published as separate book)
"flatware"
defines his unique take on two-dimensional art piece: painting, collage and mixed technique drawing in one tea-cup. Interestingly, a subtraction of an extra dimension for
Hentz
, notorious for his video-captured live painting performances/lectures, proved to be far from regressive "neo-classicist" dead-end trap, into which certain, once radical, artists tend to fall with age. In retrospect, this reduction paradoxically added an extra dimension to
Hentz
's envelope-pushing art praxis, marking a new corner turn, a further development for this artist, famous for his provocative performances, groundbreaking (uncensored and live) TV/video art, and polymediatic syncretism.
In his text for the exhibition
Da Bao: Austrian Art Made in China
(2010),
Hentz
points out that the live painting table-top video performances (lasting up to 12 hrs, resulting in kilos of flatware) have, actually, all along been rooted in his workbook praxis:
"More than 30 years ago I started out with paintovers. I used books or catalogues of other artists and converted them into my private everyday life workbooks, they got new coinage. I appropriated them, gave them a more personal identity, with my diary registrations, notes, drafts, addresses and collages they became art objects. Several times friend and collector
Carl Vogel
(unfortunately he died too early) wanted to buy my workbooks. I rejected, the books having a much too personal meaning to me just to be sold away. This inspired me to realize a specific format, based on my workbooks..."

And thus, with flatware, Mike Hentz not so much "rounds the circle", but delves further down the spiral. His most recent exhibition, Flatware From China, has recently opened at a hip Neukoelln "special" gallery Peppi Guggenheim. The exhibit is, effectively, an installation centering on pictures, with two show-rooms - one mostly for the smaller pictures (completed by two king-size pieces), the other - for the large format (a diptych and two big-scale tableaus). These works have been, with few exceptions, produced during Mike's latest stay in Beijing in the spring of 2012, while on visit to work with Karel Dudesek on the hefty minus delta t archive.

In spite of being two-dimensional, and by definition "flat", flatware pieces are, like Mike, meaty and, well, prominent: the shapes and forms salient, bulging, protruding from the paper, relief-like (sometimes literally so, as in the case of Hentz's appropriation of old maps). It is tempting to go so far as setting his seemingly brute, primitivist (perhaps, indigenous-art-inspired), child-like drawings next to those by, an unlikely choice, Bhagavan Sri Radjnish Osho - a very prolific painter in his own right (although remembered mostly for other stuff) - a comparison Hentz will probably jeer at. Like the odious guru's, Mike's are primary geometric shapes: circles, triangles, sqaure, as well as curves, doodles and scribbling, often found in subconscious paper-daubing (like my mum while talking to someone on the phone at length). The child parallel would also seem not so far-fetched to those who have seen the art of Oja-Lutfieh, the maestro's baby daughter and a busy doodler: definitely a source of reference for the artist (the main difference being, of course, the sharp consciousness of Mike's method).

It is once again useful to check back with the roots of flatware, the 8 x 1.5 meter photographic reprints Hentz had produced back in the day to accommodate C. Vogel's interest in his, which he reprocessed into pictures: "It became a new work, but the workbook technique of overworking I transposed to bigger and other formats.This method later led me from personalized workbooks, paintovers to restructuring posters, pictures, graphics and collages".

It would be tempting to suspect that here Mike establishes direct legacy and lineage from the Situationist practice, "detournement" - were it not for the fact that the early Hentz proto-punk performance/music group, Defi Science Mentale, had actually been on the cutting edge of the later-day Situationist activities, proving to be far more radical than the actual Internationale members: "When I lived in Paris from 1970-74, I had the chance to see the remainders of the Situationists. What I thought was, too bad they were too left-wing, intellectual and theoretic. They had a very precise, analytic and visionary cultural concept, but... there was no practice, the theories were revered... At the opening of Nancy Theater Festival we threw ourselves naked on the Mayor of Nancy, while Situationists, somewhere hidden in the background, lit 3 firecrackers. We were bounced by bodyguards and they farted in a corner... [They had] a thinking model, but then they started excluding each other for so called ideological treason." - recalls Hentz in his book Works 4 (1999). As to the possible similarities between detournement and flatware, he says: "I don't want to detourn the existing work by overworking, I want to make it better through the marriage of lines and contents and create something new."

However, flatware does inherit the original culture-pricking intention of the 20th century avantgarde: appropriation and reconstruction of media-produced images, rendering their messages virtually diametrically opposite. Yet, in Hentz's case, there is a marked progression. It is quite interesting to analyze the very images the artist chooses to appropriate: unlike the S.I. he never selects advertising or political slogans (which under modern new order have broadened and blurred to near transparency or "Predator"-like invisibility). Instead he opts for artefacts of days and dictatorships gone-by, the stuff more commonly nowadays found at flea-markets or in dumpster-heaps. His preference is for discarded images of waned showbiz stars (the anonymous actress on the exhibition's flyer), old relief maps of territories which now exist as newly-founded states (Estonian pictures), forsaken propaganda reprints (the hilarious Reichstag seizure painting by an obscure Polish author, signed: "The first Love Parade, Mike Hentz, 2012"), or former Communist leaders (Brezhnev, Mao, Stalin).

Hentz elaborates: "The Communist leaders are a bit misleading. I also have technical drawings 200 years old till today, as well as national-socialist. A lot of them are connected to propaganda or yellow press of the 30's-40's (the cinema star is Tattler newspaper, 1935), as well as technical drawings. In China I used nudes and letters, plus traditional Chinese ink drawings to rework. For an exhibition in Latvia I asked famous artists to give me works to overwork, but, with an exception of one guy, none of them were ready. Picasso and others can't say no any more, so I did it. The sources are most diverse. I loved computer programming schedules and sets of the 60's, and use them till today, mixing them with traditional Arab ornaments. The marriage or collage of content is in no way justified only by the result - looks good or great - and then discussions start, like: why did you use that? What gives you the right to mix it? Et cetera..."

Analyzing Mike Hentz strategies of laying watercolors down on paper, one might discern two different trends. The first is the meticulous pointillistic dotting with different colors, which is very similar to natural rhizomatic forces like moss - a very artistic phenomena in its own right, creating fascinating patterns on surfaces it (not unlike Hentz's paintovers) occupies (better yet: invades). The other is a similarity with molecules one might witness creating colorful shapes and juxtapositions while observing tissue through a microscope. In fact, as we pointed out above, the flatware pieces are precisely such a zoom-in on forsaken or forgotten artefacts of culture and history, a magnified image of human voluntary amnesia. In this regard, it is worth mentioning Mike's DJ nick, Mikrom, a combination of "microscope" and "microbe", but also bringing to mind "metronome": just check the groove, the pace, the rhythm of his painting.

Mike Hentz's ouevre has always impressed by the sheer volume of quality work produced - he currently has two different flatware exhibitions, all quite different in purpose & content, in Berlin alone (the other one, Male Icons, recently finishing its Estonian run). Not to mention heavy involvement with Berlin's Performance Month, throughout the course of which Hentz performed, lectured, conducted a cheese club, and also took the time to stage a 7 hour Tableau Vivant polymedia suite, reflecting on Beauty, at the Mindpirates space in Kreuzberg. During the very exhausting two-day-plus-12-hrs-a-day montage of Flatware From China, someone jokingly remarked: "Hey, Mike! You eat and drink for three!", the artist retorting with the nonchalant and matter-of-factly: "True. But I also work for three!" And this rings absolutely accurate and right on the money. Hentz is a one-man trio, grooving and cooking with impeccably pulsing swing.

The flatware is on the table. You may now kiss (or fuck) the cook. The meal is served. Lick your joints clean!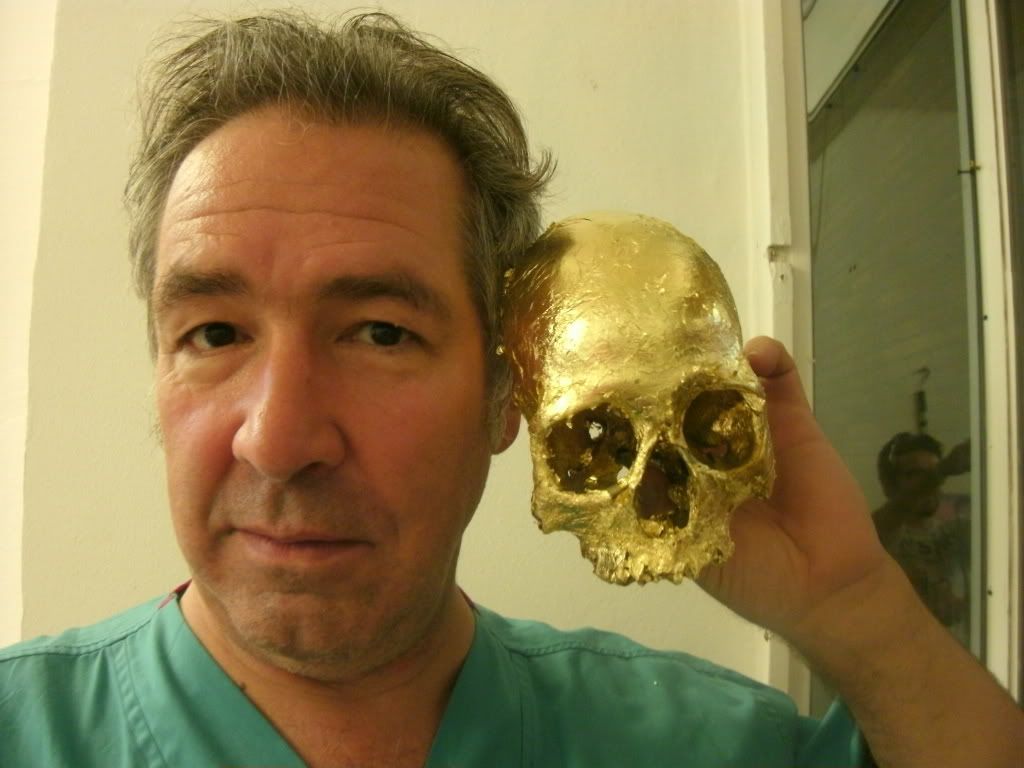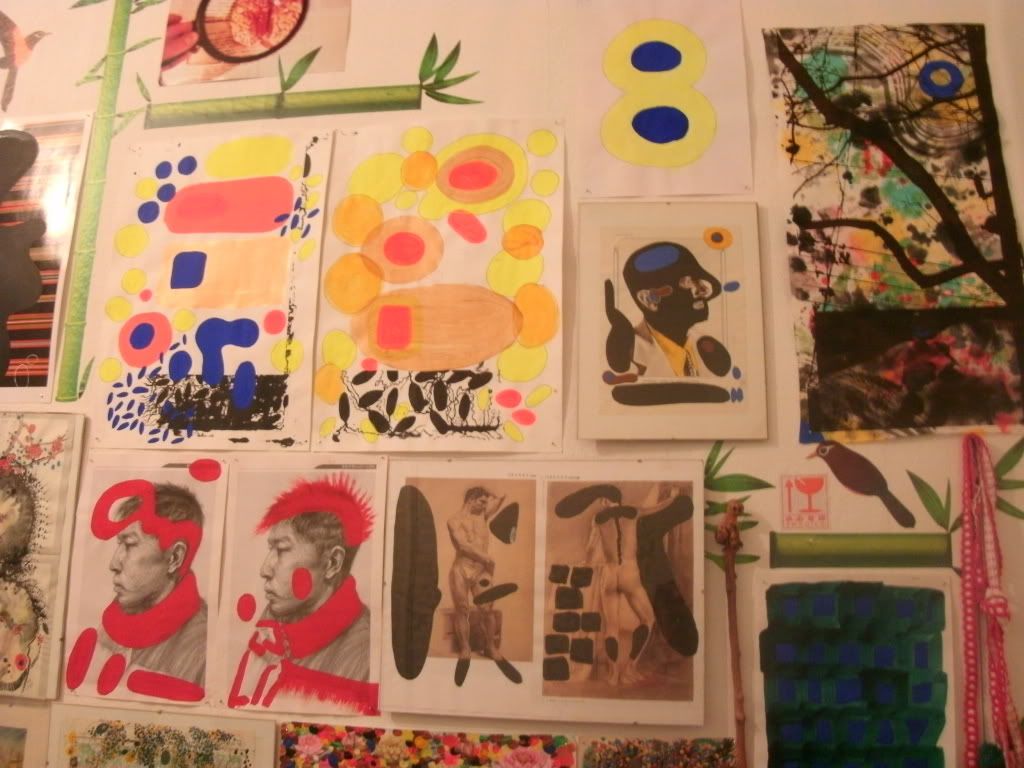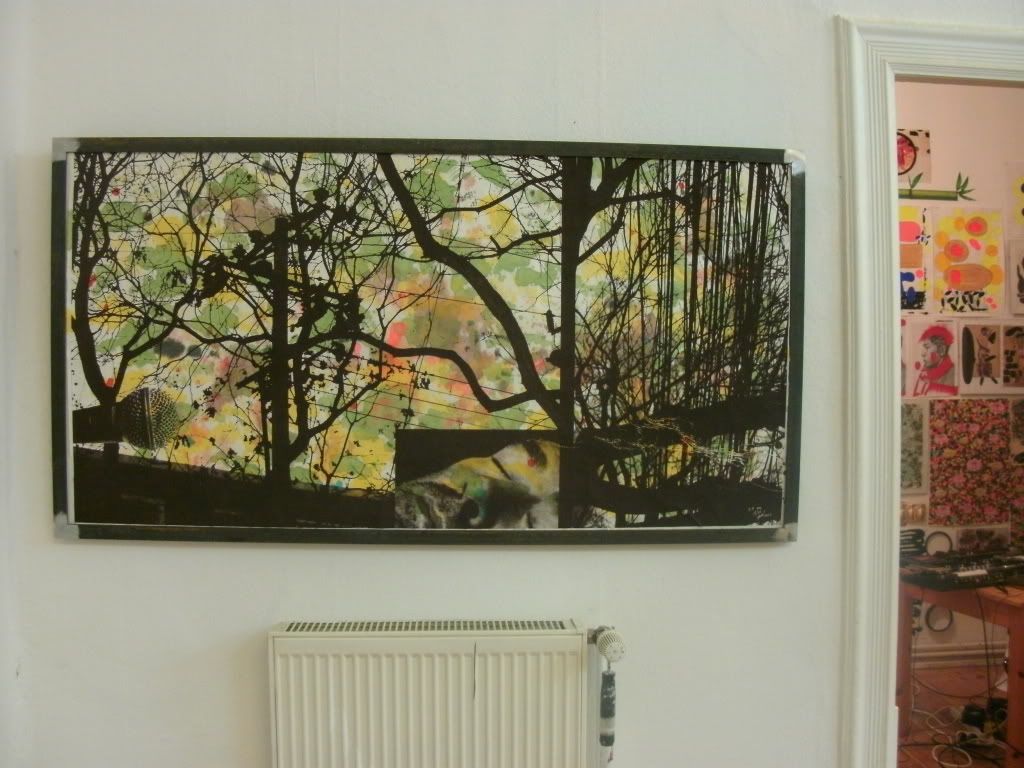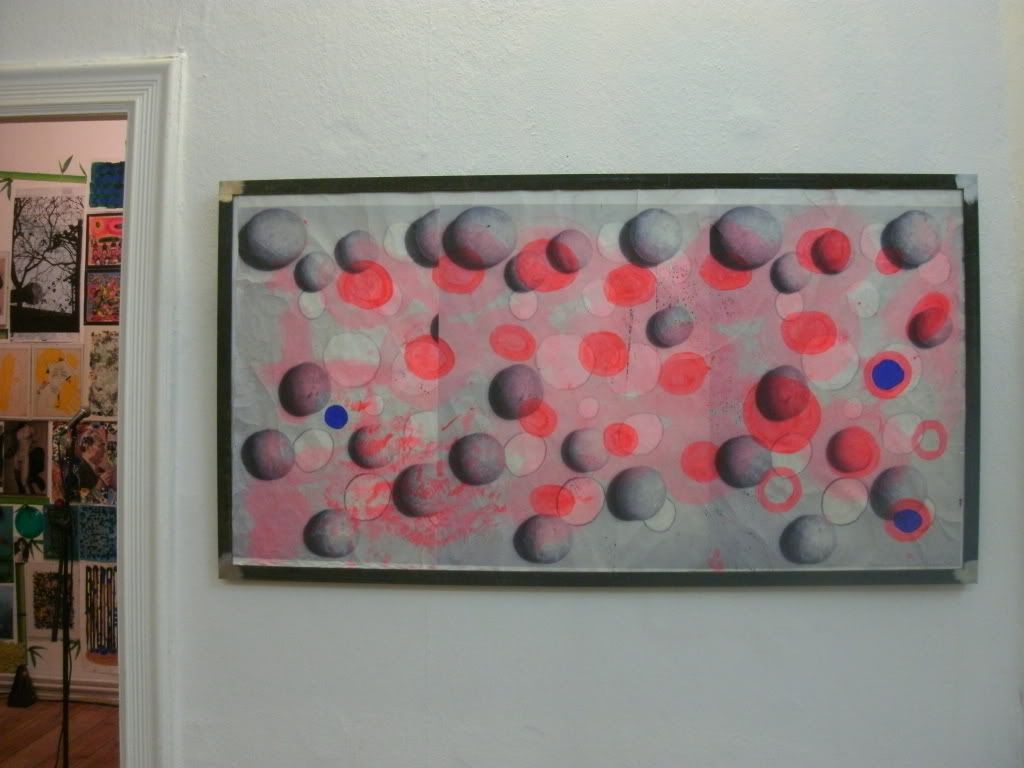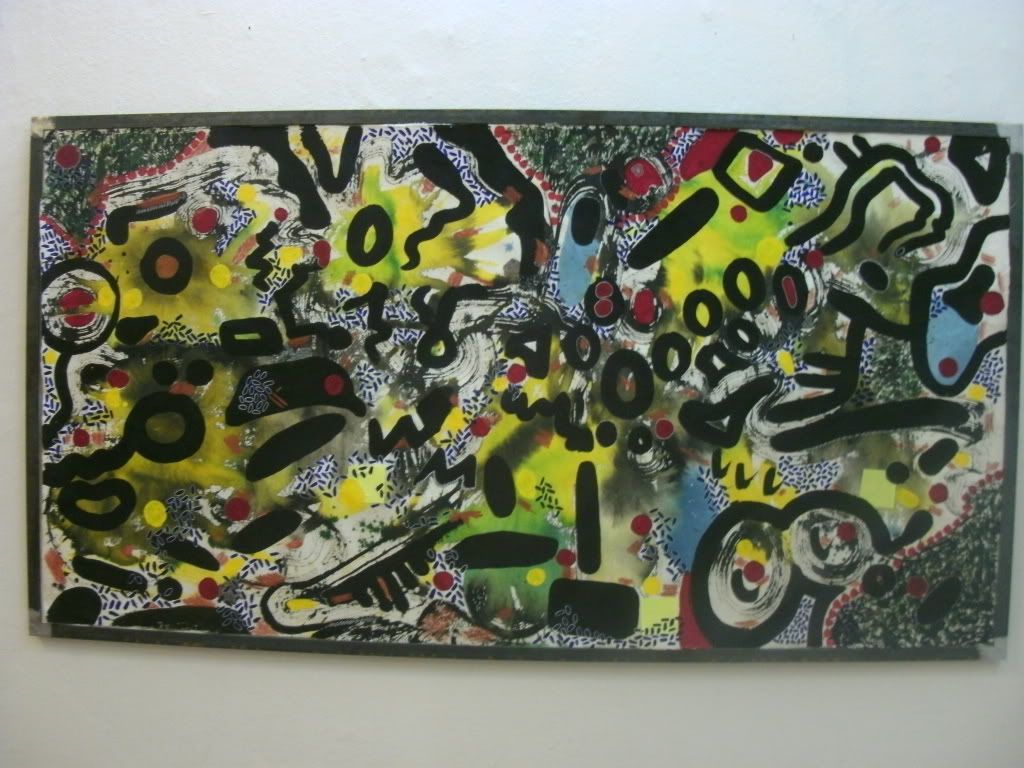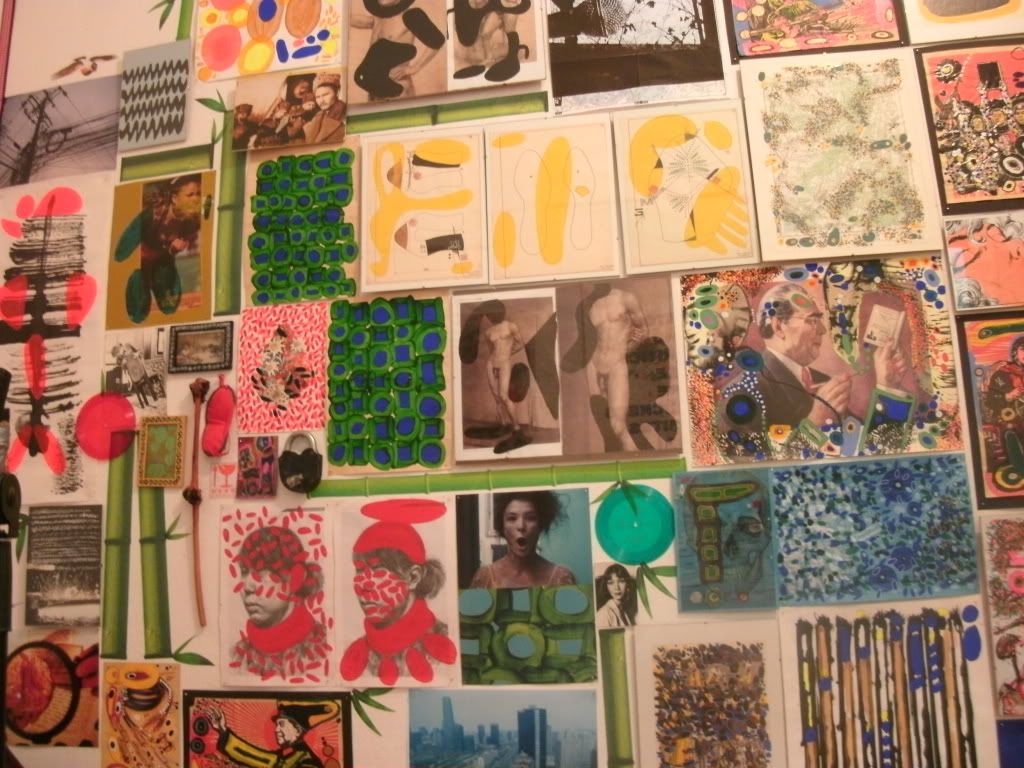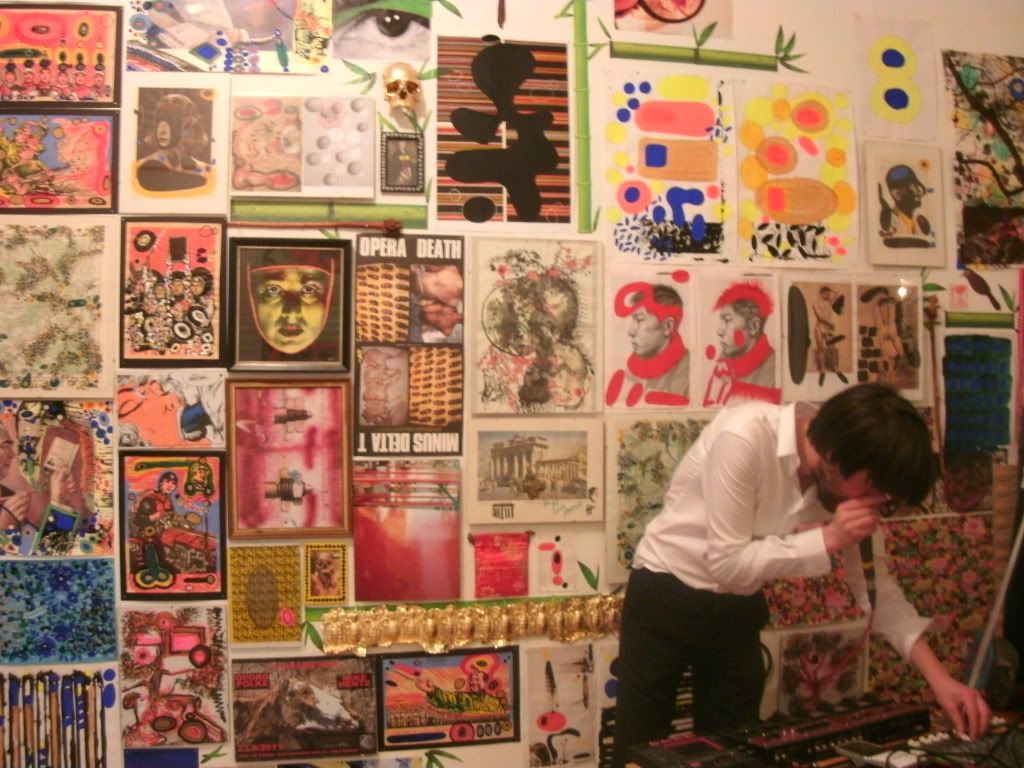 Mark Boombastik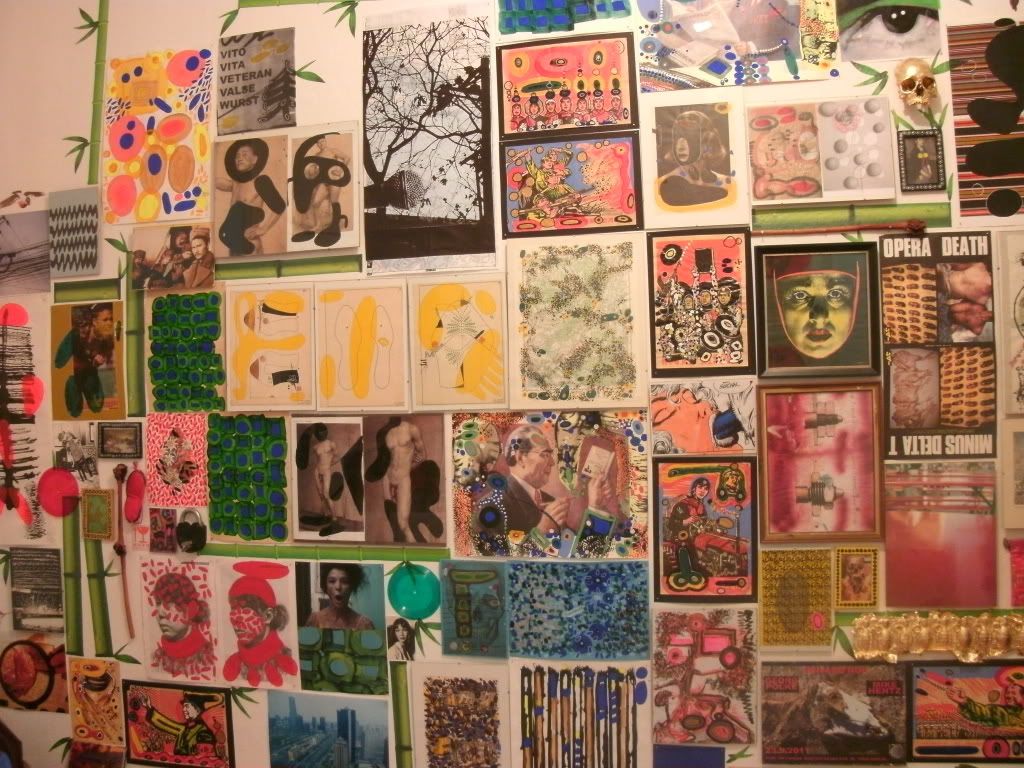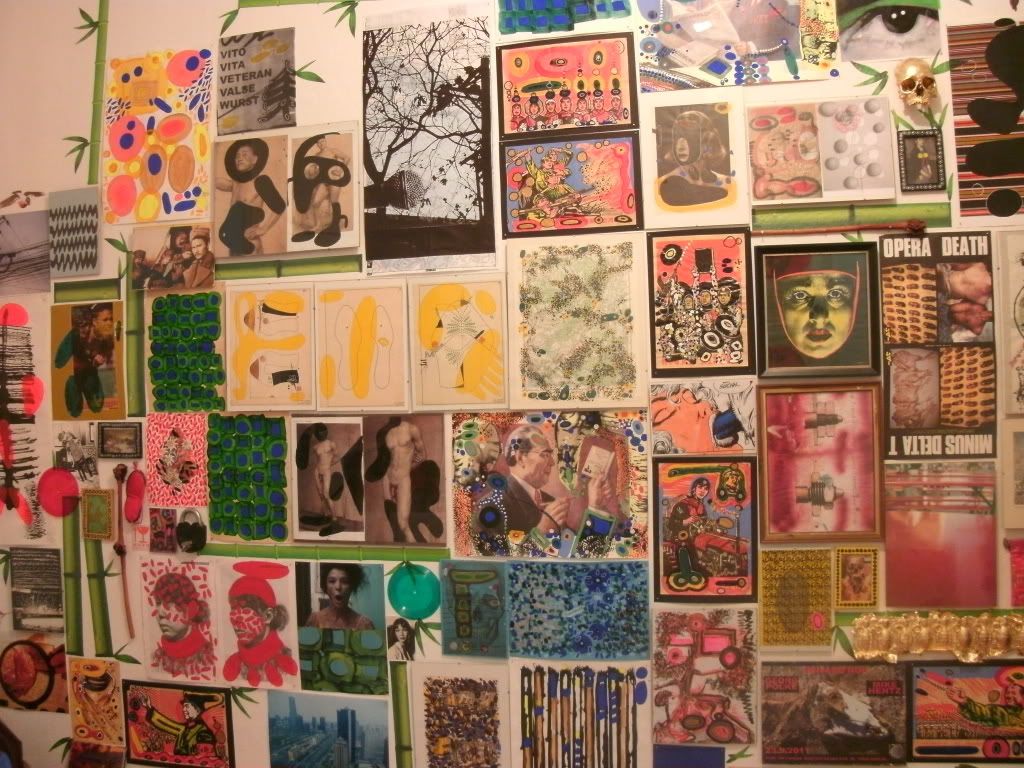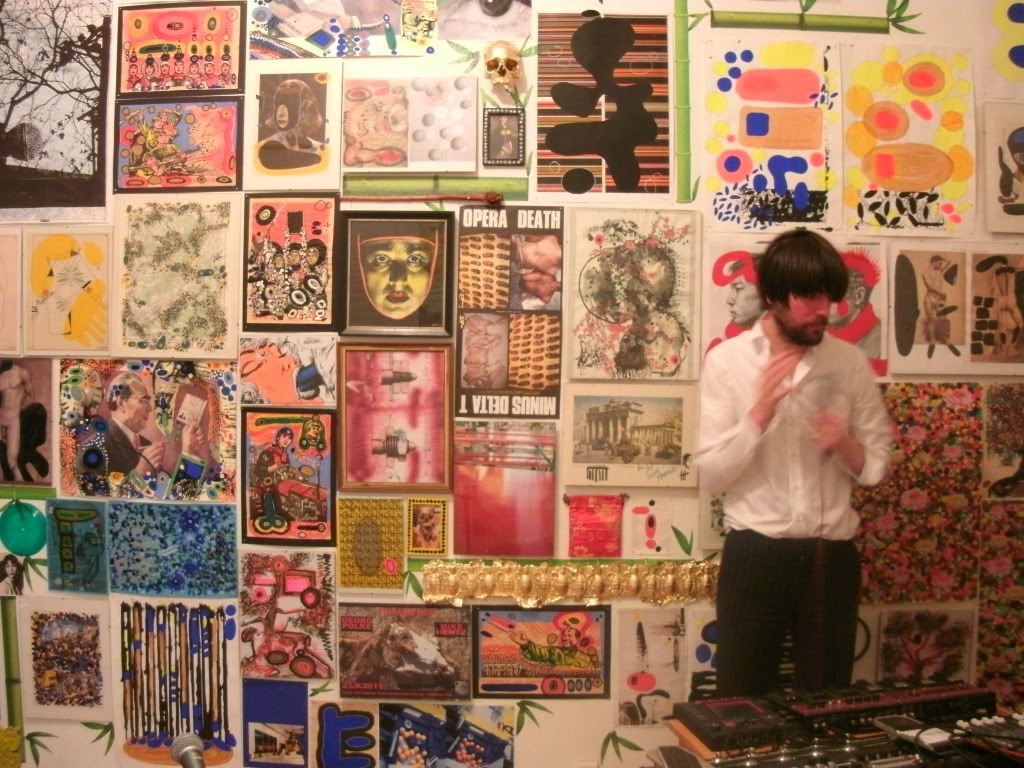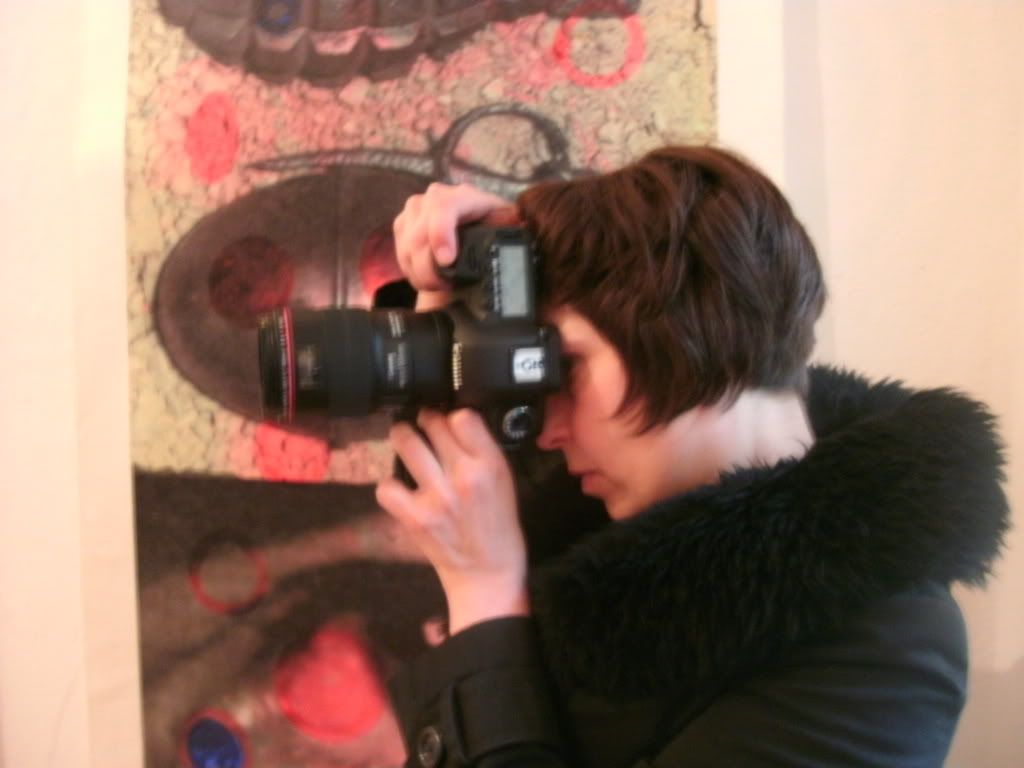 Jessica Broscheit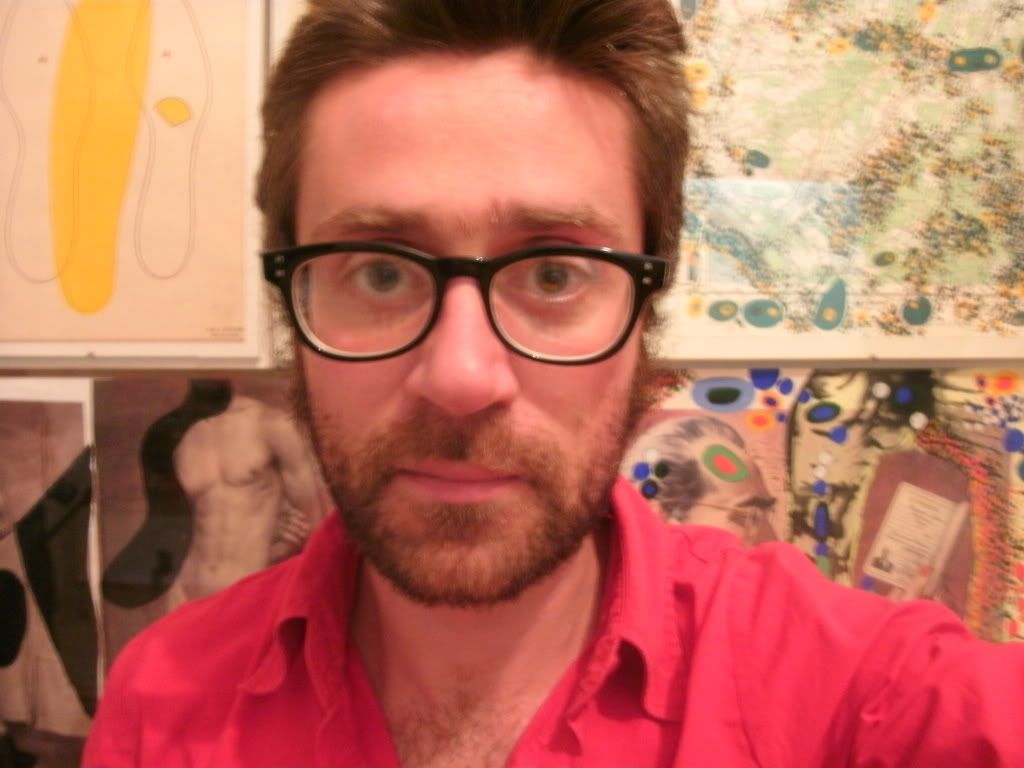 Sergei Kleyn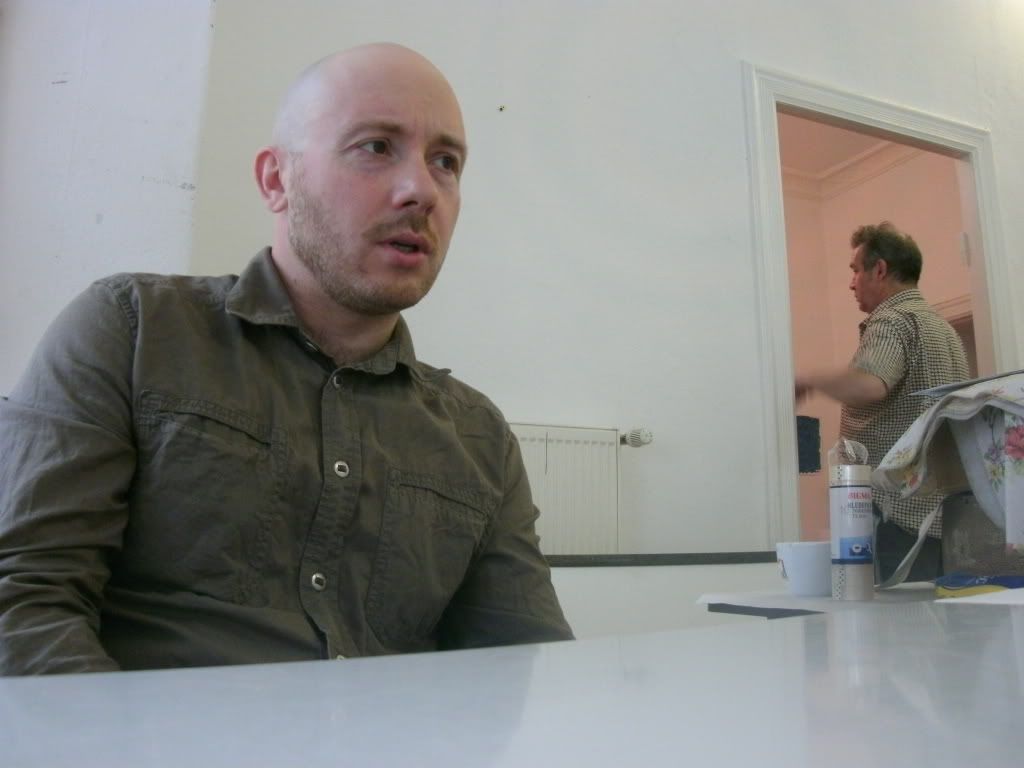 Yuri Gurzhy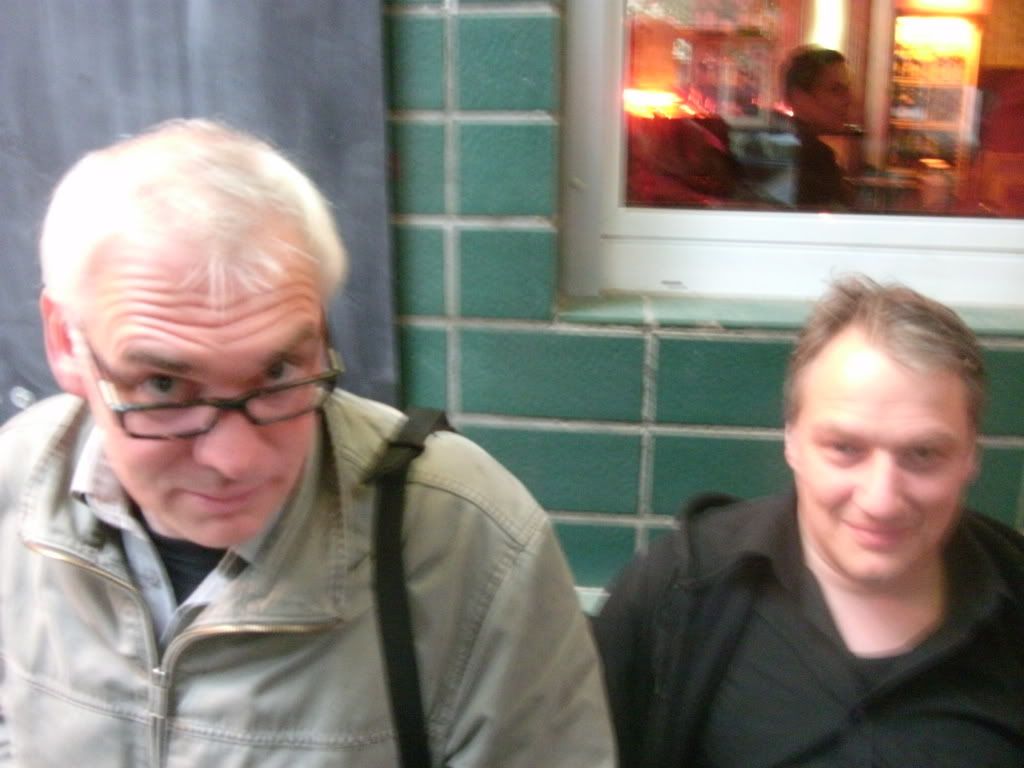 Kersten Ginsberg / Henning Kuepper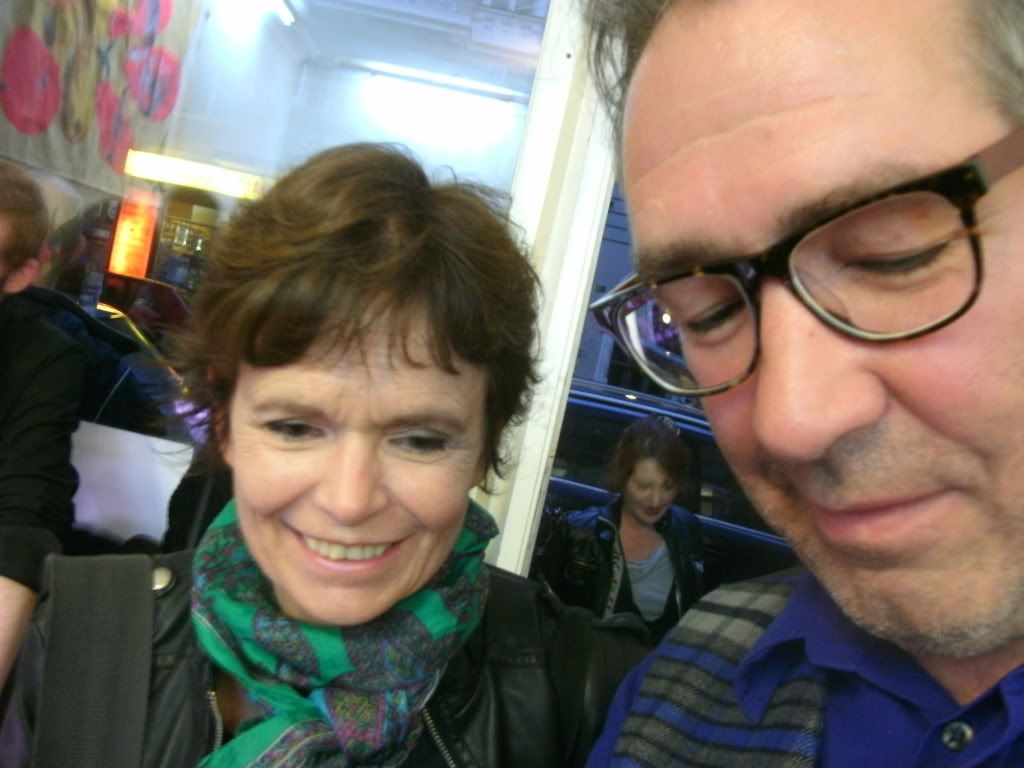 Eva Brunner / Mike Hentz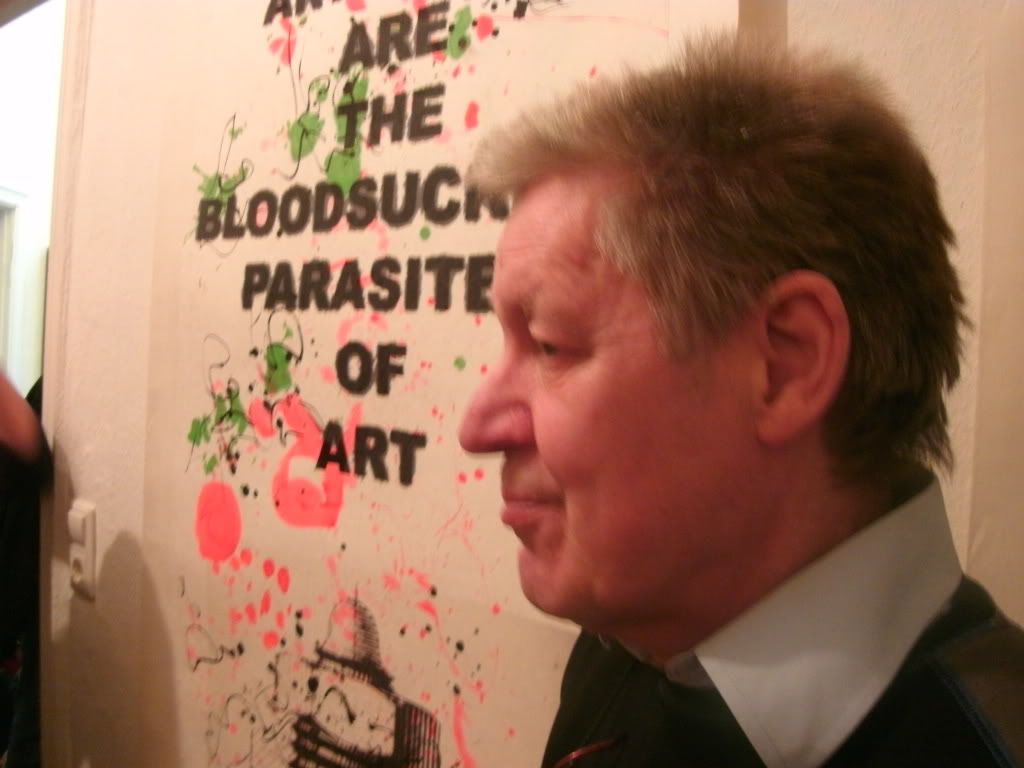 David Lynch was there too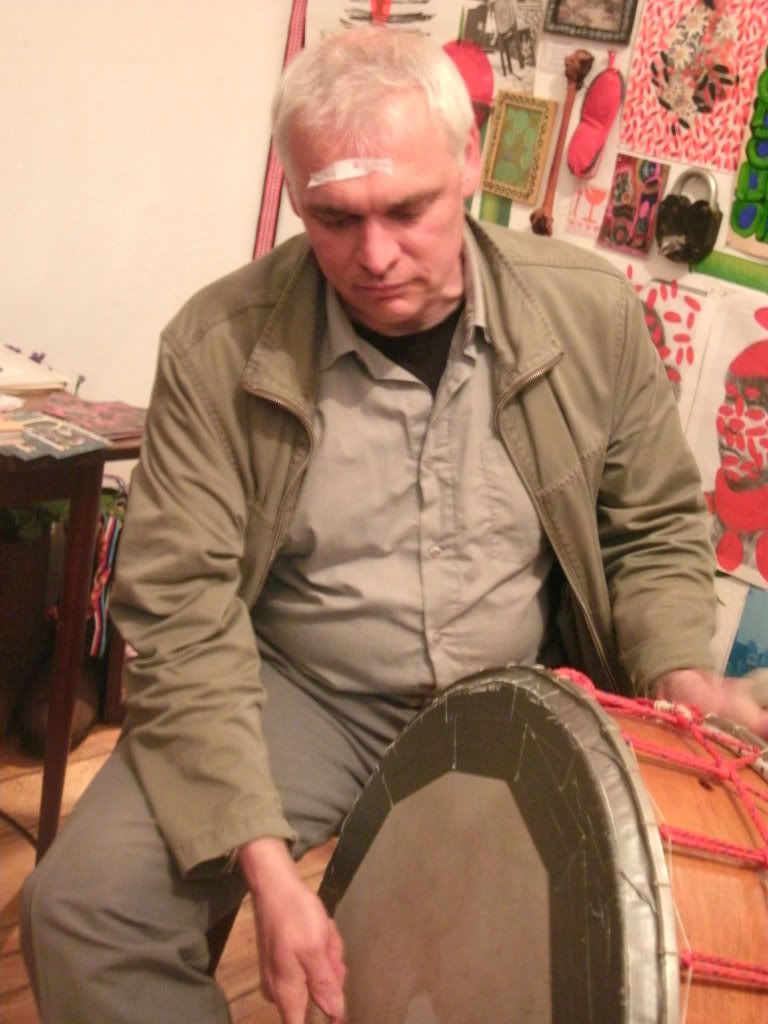 Kersten Ginsberg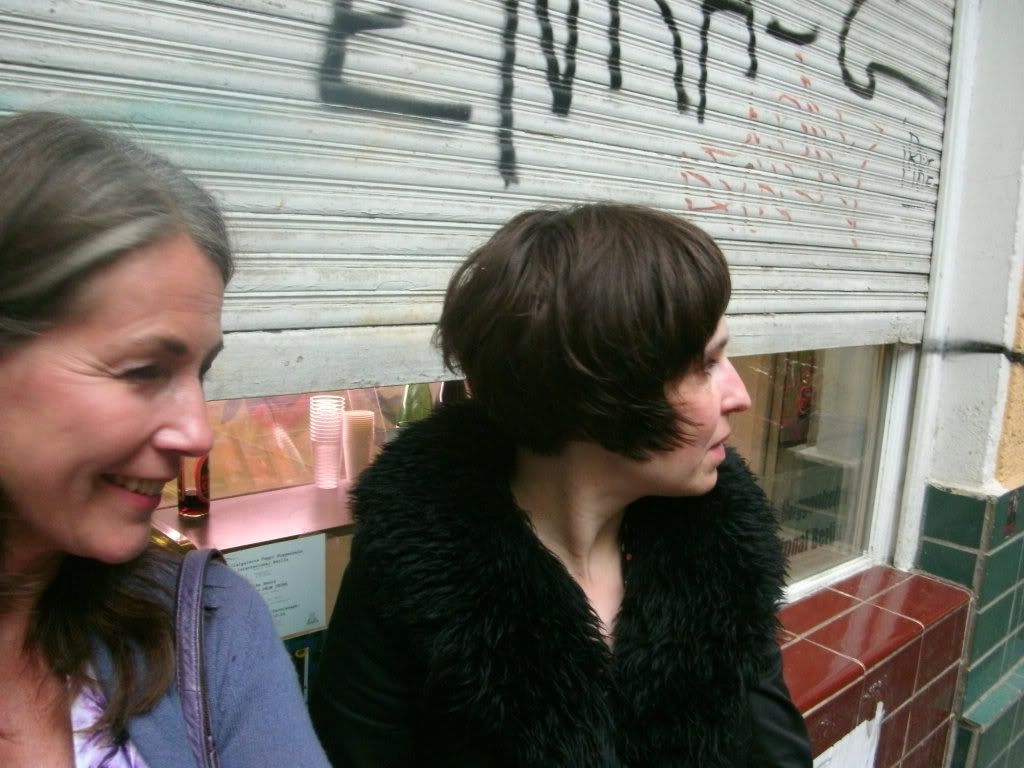 Birgit / Jessica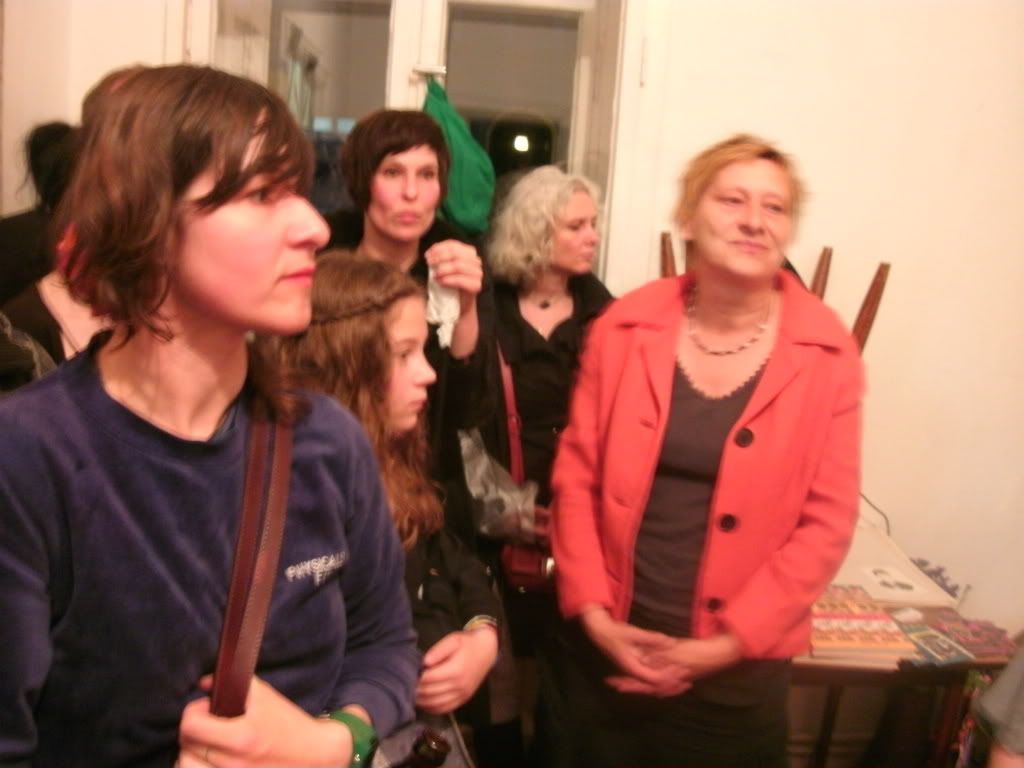 Renate from Liebidow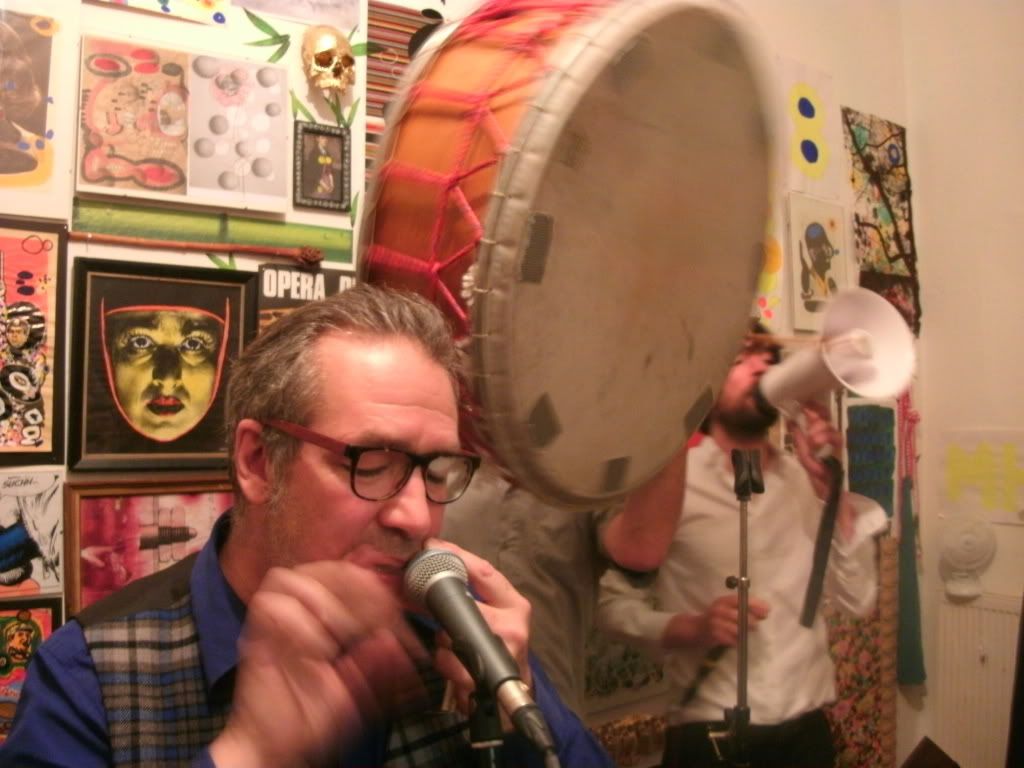 Hentz / Ginsberg / Boombastik
Mike Hentz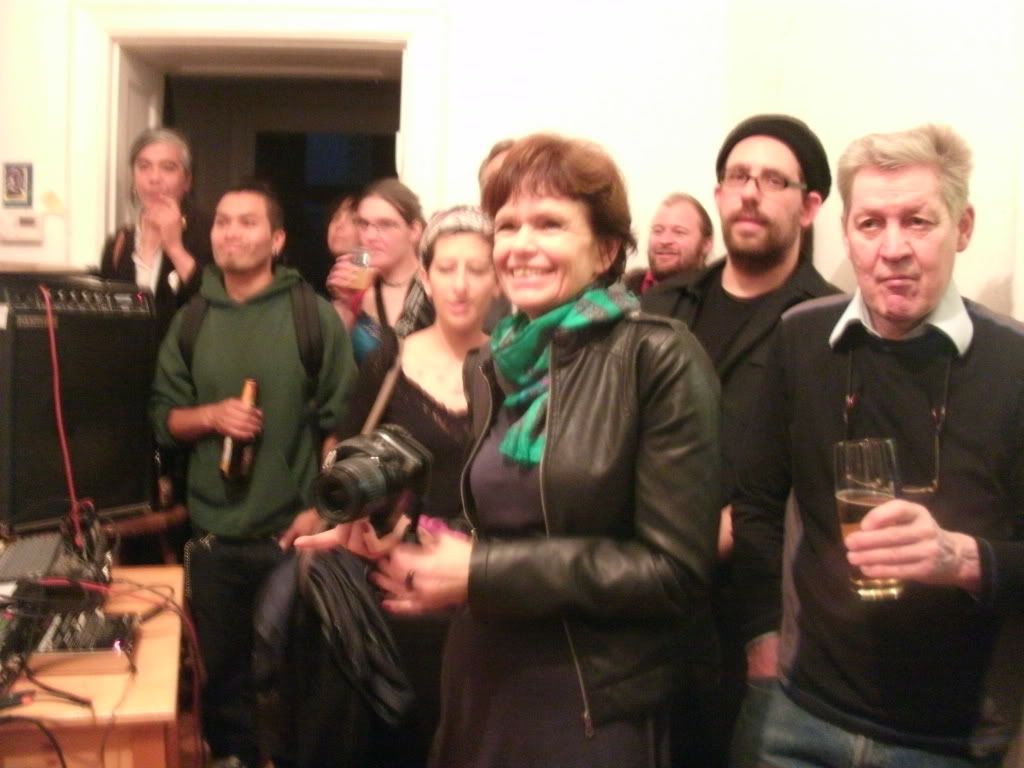 audience during the concert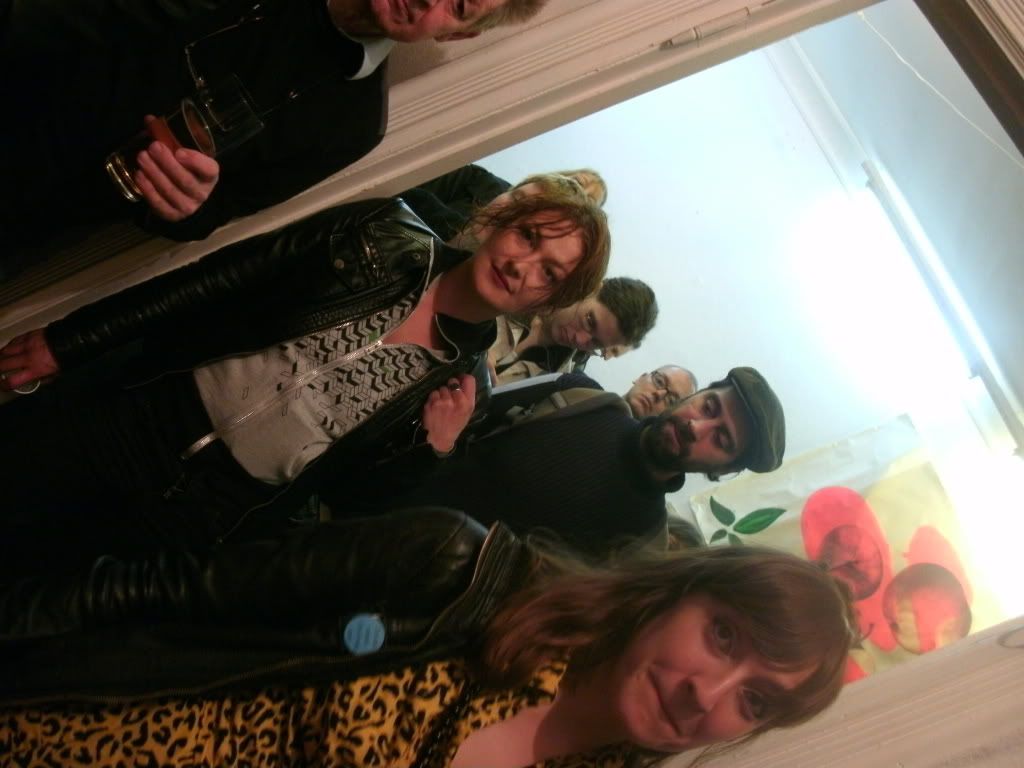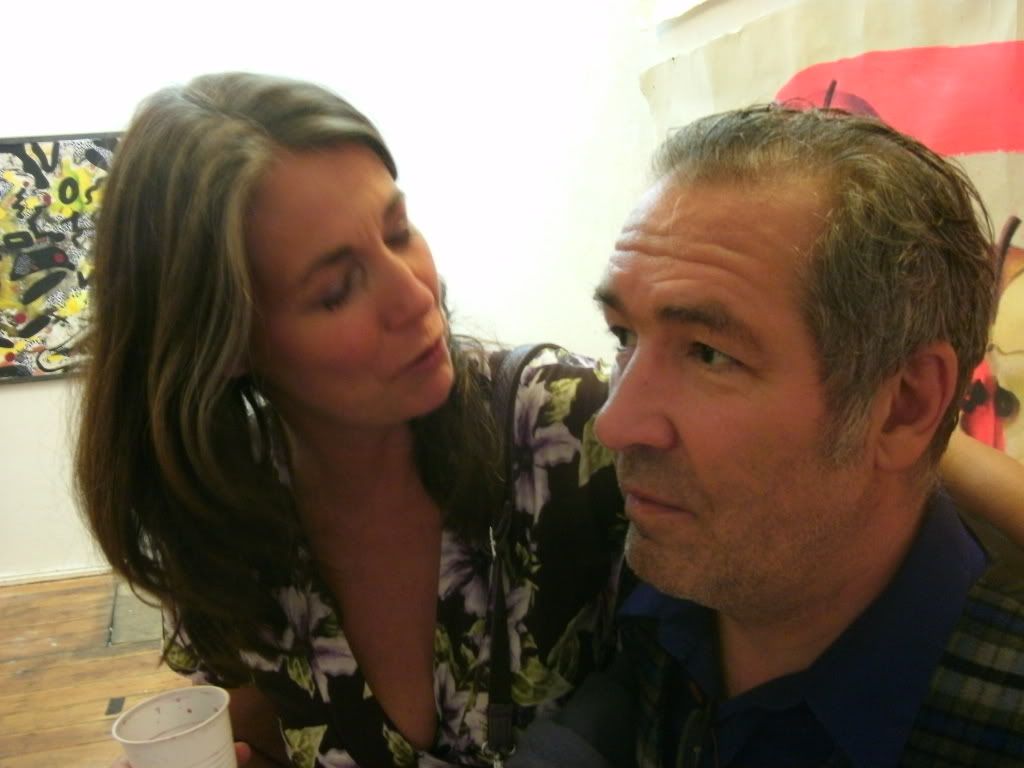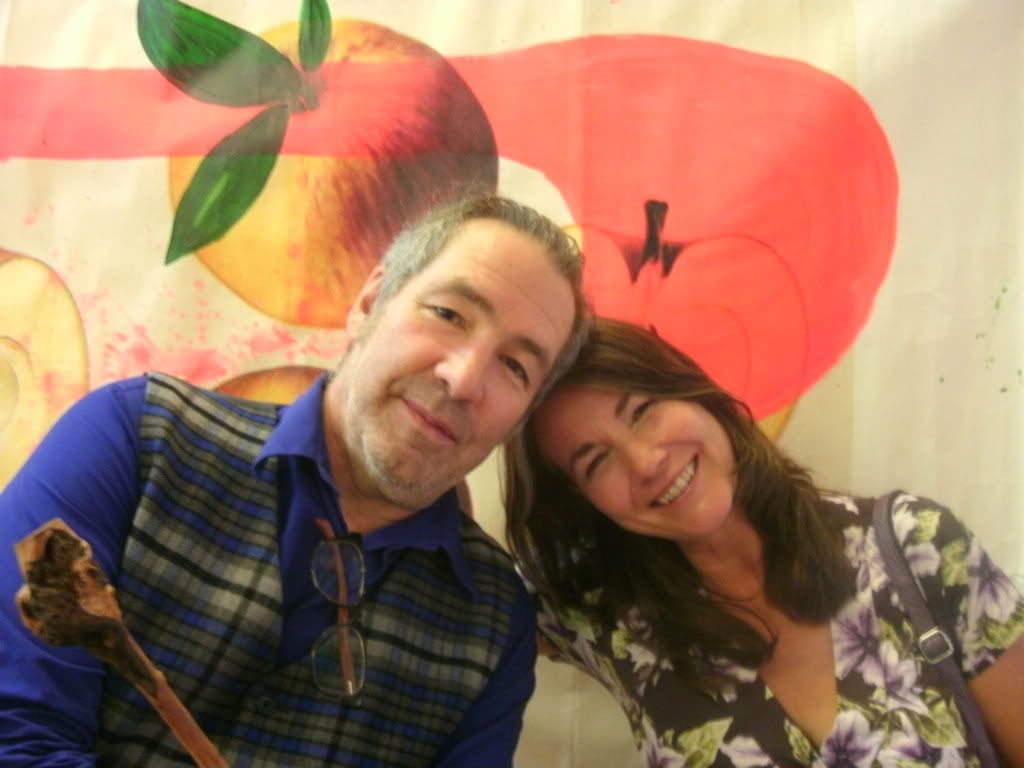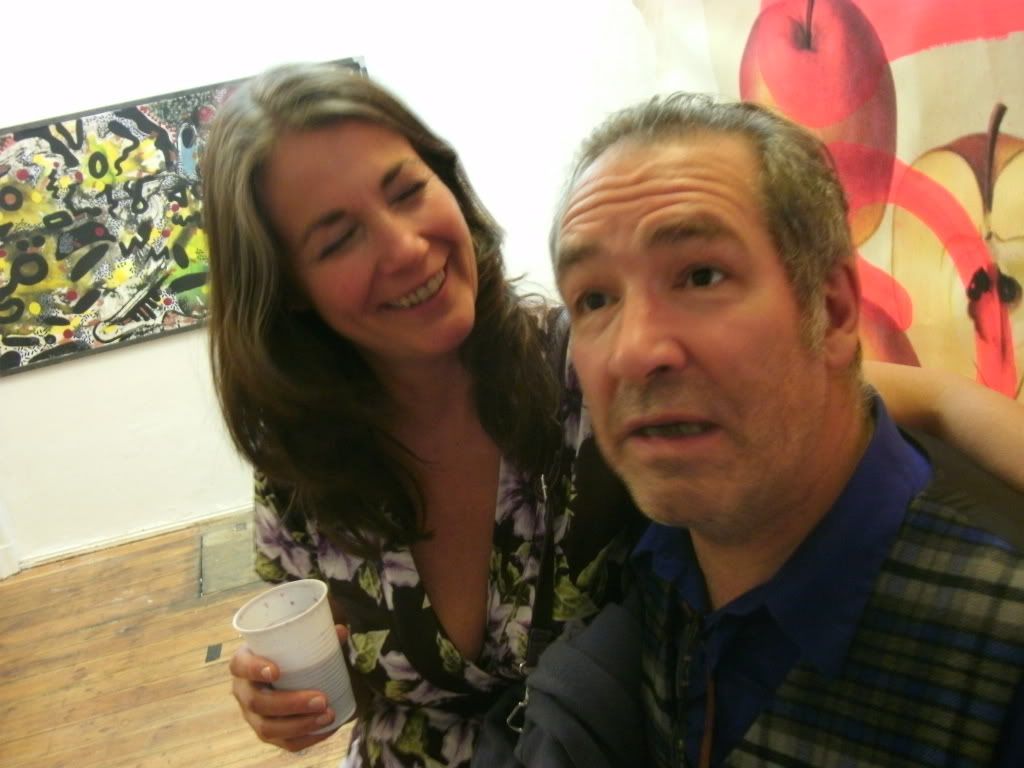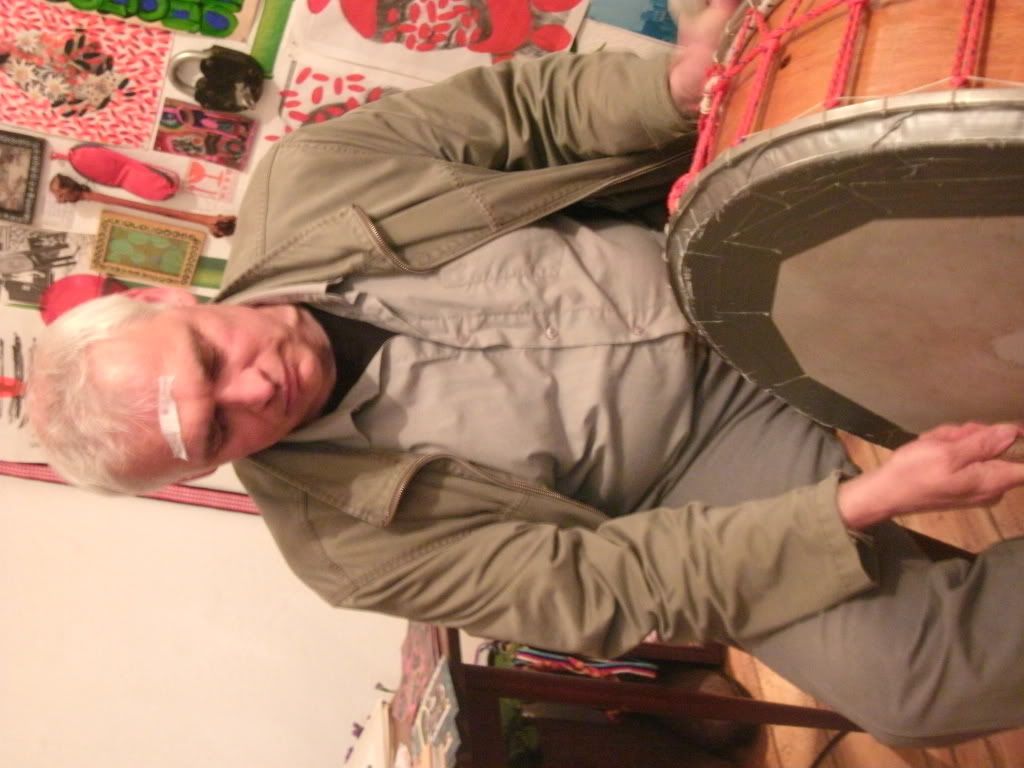 Alex Kozmidi
guest book
Peppi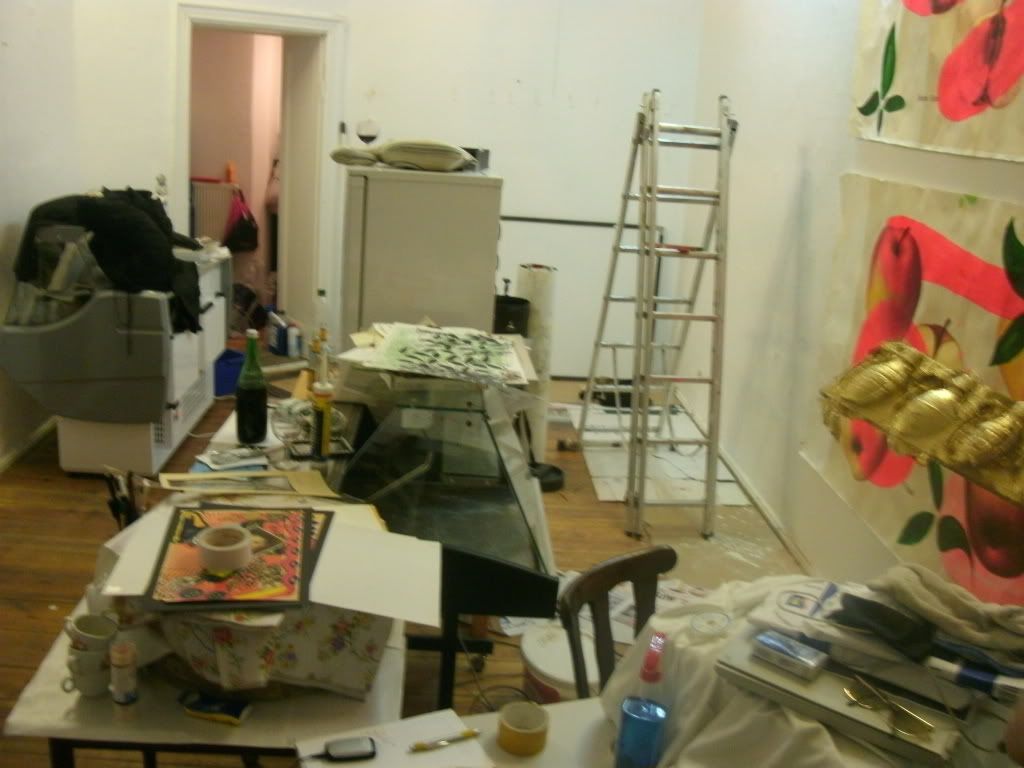 build-up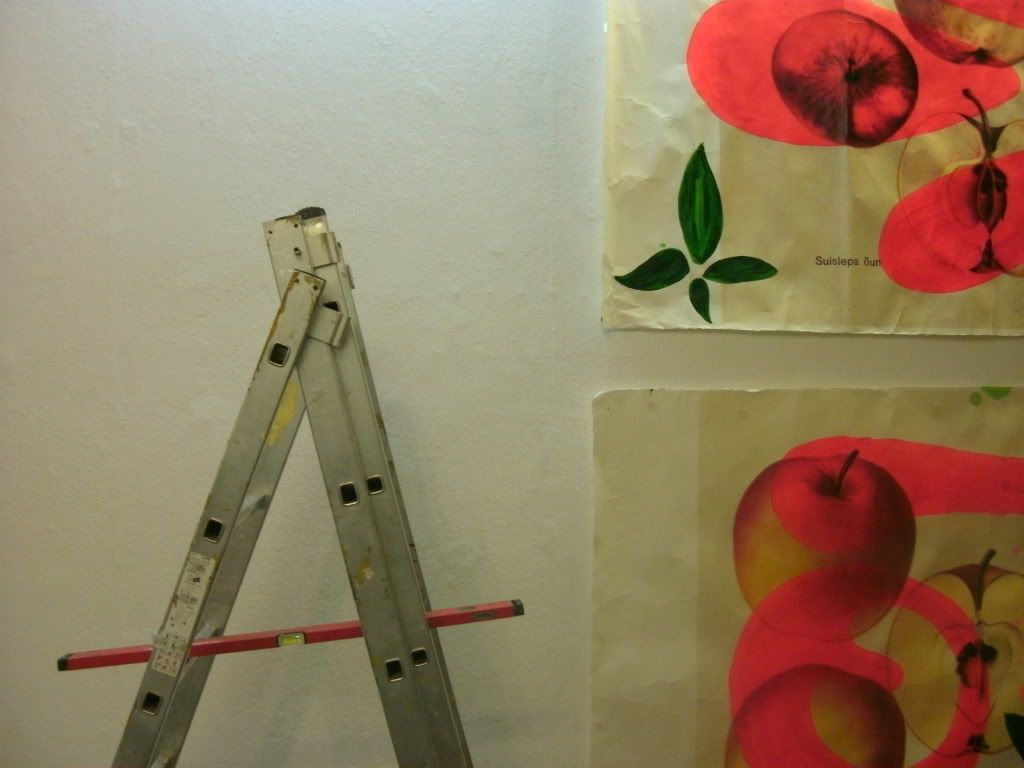 build-up
beginning...
the gallery and the bar